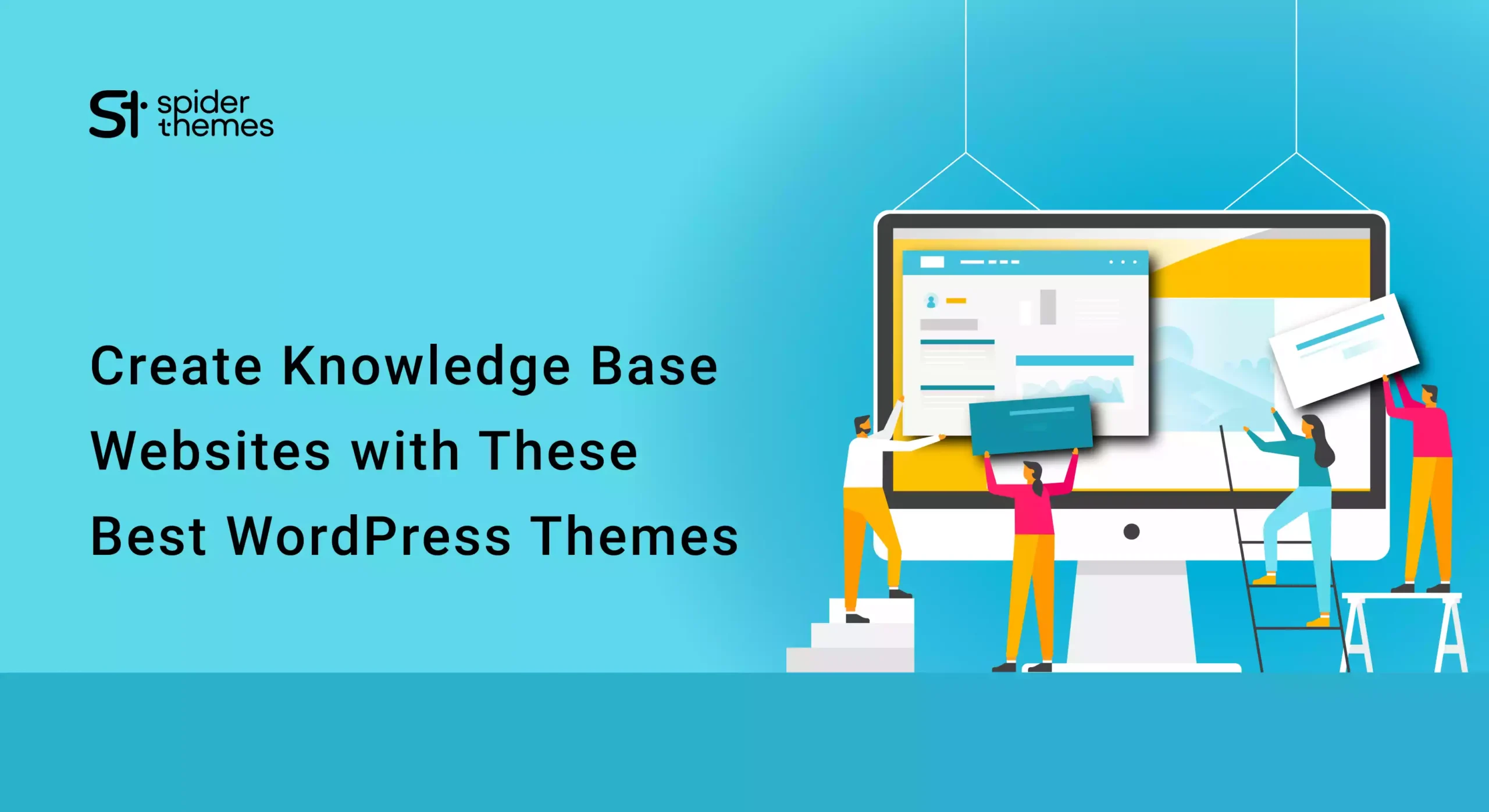 In the ever-evolving business landscape, the importance of knowledge-based websites cannot be overstated. 
These websites serve as invaluable resources for customer support, enhancing brand awareness, and contributing to overall business success.
When it comes to building a robust knowledge base, WordPress emerges as a leading platform with its vast selection of themes tailored specifically for this purpose.
In this article, we will delve into some of the best WordPress themes available, empowering you to create a comprehensive and informative knowledge base website that meets the needs of your audience.
Why Choose WordPress for Your Knowledge Base Websites?
WordPress has earned its reputation as one of the most popular content management systems (CMS) globally.
Its user-friendly interface, extensive customization options, and an ever-growing collection of themes and plugins make it an ideal choice for building a knowledge base website.
With WordPress, you don't need to have advanced technical skills or coding knowledge to create a professional and visually appealing platform for your knowledge base.
---
8 Benefits of Using the WordPress Platform
Using the WordPress platform offers numerous benefits that make it a popular choice for website development.
Here are eight key advantages of using WordPress:
1. Flexible and Adaptable to Changing Needs
WordPress powers a wide range of websites, from small businesses to large corporations, offering adaptability to meet changing needs. With a variety of themes and plugins, WordPress can cater to diverse requirements.
2. User-friendly for Beginners
Even beginners can easily create and manage websites with WordPress. Its intuitive interface and visual editor simplify content creation, editing, and publishing. Installation is quick, requiring only a domain name and web hosting account.
3. Versatile Theme Collection
WordPress themes provide numerous options to customize the appearance and functionality of a website. Choose from a vast directory of basic and premium themes or purchase from third-party designers to change the site's look and layout.
4. Extensive Plugin Library
Enhance your WordPress site with specialized functions using plugins. The plugin directory offers hundreds of options for features like shopping carts, contact forms, and galleries. You can also purchase custom plugins from third-party developers.
5. Easy Search Engine Optimization
WordPress sites rank well in search engine results due to their constant updates and built-in SEO tools. The clean code, optimization options for titles, descriptions, and URLs, and dedicated SEO plugins contribute to improved search engine rankings.
6. Mobile Responsiveness Websites
WordPress themes are designed to be mobile-responsive, ensuring optimal viewing and functionality on various devices. Responsive design is crucial for Google rankings, and WordPress offers responsive themes or the option to make static sites responsive with plugins and adjustments.
7. Built-in Blog Feature
WordPress includes a built-in blog feature, accessible from any device. Even non-blogging websites can use this feature for updates or announcements, thanks to its content management system capabilities.
8. WordPress Community Offers Support
With a global community of WordPress enthusiasts, the platform benefits from ongoing support, updates, and security improvements. WordPress camps and local user groups foster engagement and knowledge-sharing within the community.
---
The Best WordPress Themes for Building a Knowledge Base Website
Docy is a premium WordPress theme that is perfect for creating documentation, knowledge bases, wiki pages, and learning management system (LMS) websites. It comes with a variety of features, including a help desk forum with bbPress integration, 10+ easy-to-customize demos, Elementor presets, and tons of customization options. Docy has been performing valiantly as one of the best-selling documentation themes on ThemeForest.
And is continuing to grow with more and more modern knowledge-based features being added to the theme with every major update.
The theme is also SEO-friendly and mobile-friendly, making it a great choice for businesses of all sizes. The best part of all about the Docy documentation theme is the fact that it is a knowledgebase, Forum, and LMS in One package, which makes it an enticing deal.
The theme's documentation & knowledge base content creation and organizational capability come from its integration of the EazyDocs documentation plugin. Which makes it easy to manage content, authors, and content creation process.
It is packed with features, including: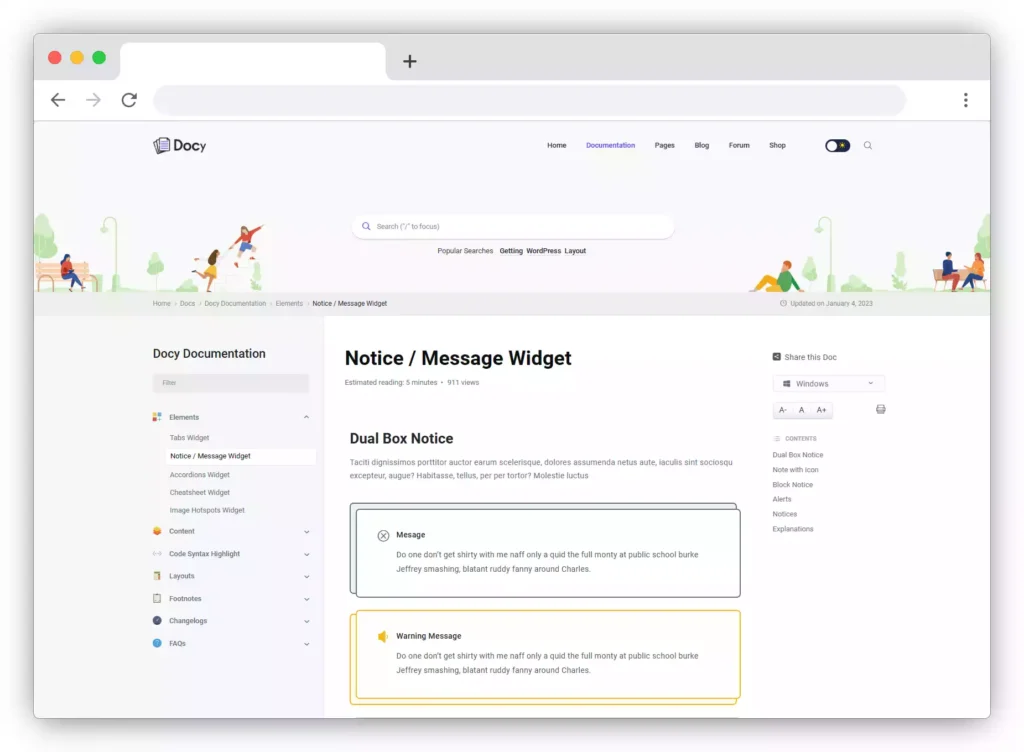 A help desk forum with bbPress integration
Easy integration with popular plugins such as Elementor, ACF Pro, WooCommerce, EazyDocs, Tutor LMS, and bbPress
Tons of customization options with 10+ preset demos & Elementor templates
Elegant design optimized for knowldge base creation
Docy also includes the following features:
Dark mode switcher
Full-width and Box width container-based doc pages
Mobile friendly responsive design
Light & SEO ready
All Modern Browser Supported
Custom Gutenrg Widgets for streamlined documentation creation
Powerful theme settings deshboard
Fully WPML & RTL compatible
WooCommerce compatible with shop, cart, checkout, & order confirmation pages
Onepage & multipage Documentation & knowledge base layouts
Child theme included
Docy is priced at $89 for a single-site license.
Here are some additional benefits of using Docy:
It is easy to use and manage, even for novice users.
It is easy to re-brand according to your needs from the settings panel.
It is highly customizable, so you can create a documentation website that perfectly suits your needs.
It is mobile-friendly, so your users can access your documentation on any device.
It is SEO-friendly, so your documentation will be easy to find in search engines.
---
Docly is another great option for creating a knowledge base with WordPress. It is a free theme that is easy to use and customize. Docly comes with a variety of features, including a search bar, categories, tags, and a comment system. It is also mobile-friendly and SEO-friendly.
Here are some additional benefits of using Docly: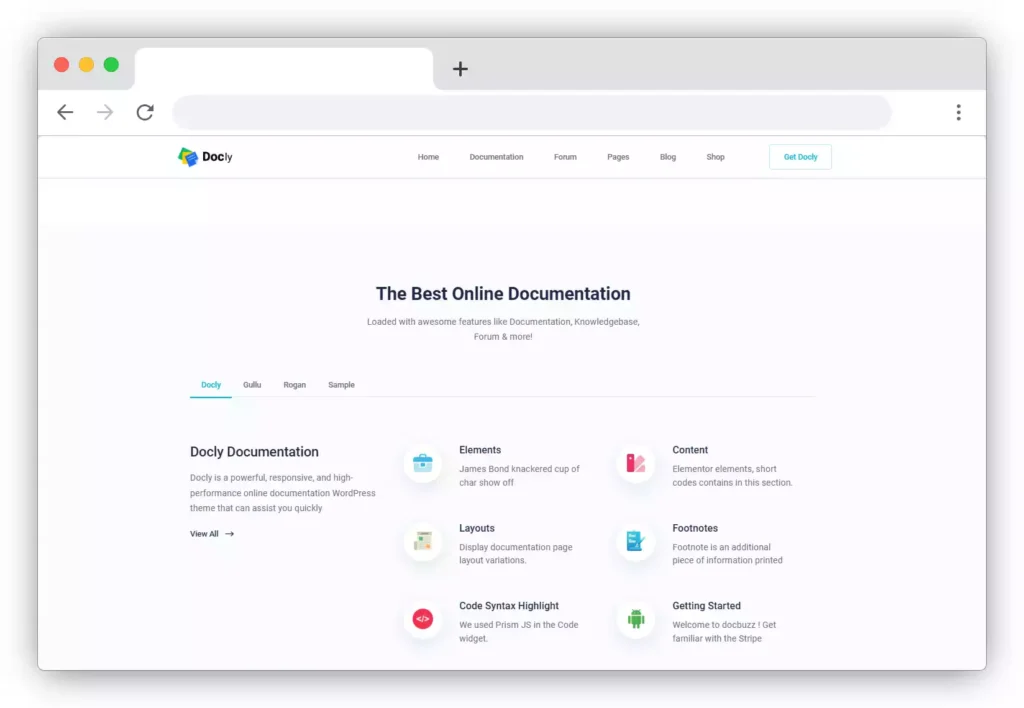 A help desk forum: Docly comes with a built-in help desk forum that allows you to provide support to your users.
Easy integration with popular plugins: Docly integrates with a variety of popular plugins, including Elementor, ACF Pro, WooCommerce, EazyDocs, Tutor LMS, and bbPress.
Tons of customization options: Docly gives you complete control over the look and feel of your documentation website.
Docly is priced at $59 for a single-site license.
Docly is packing the following features:
Easy integration with popular plugins
Tons of customization options
Elementor drag-and-drop page builder support
Dark mode switcher
Full-width and Box width container-based doc pages
Easy to customize
Unique and Modern Style
Search Engine Optimised Code
Mailchimp integrated
All Modern Browser Supported
---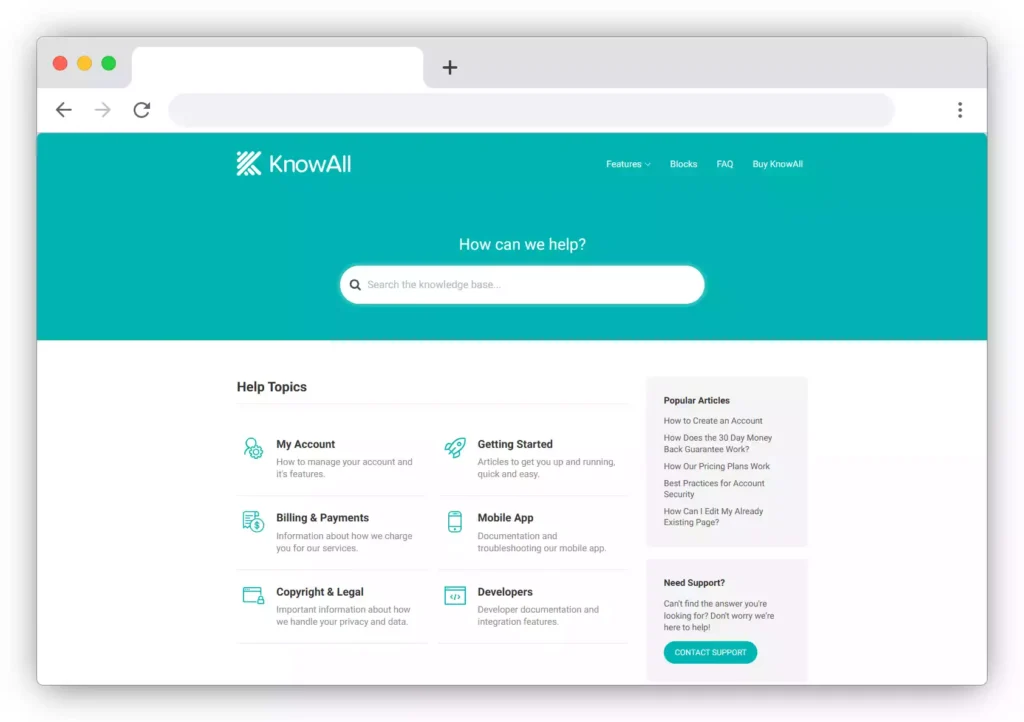 KnowAll is a premium WordPress theme that is specifically designed for creating knowledge bases. It comes with a variety of features, including a drag-and-drop page builder, a built-in search bar, and a user-friendly interface. KnowAll is also mobile-friendly and SEO-friendly.
Some of the key features of KnowAll include: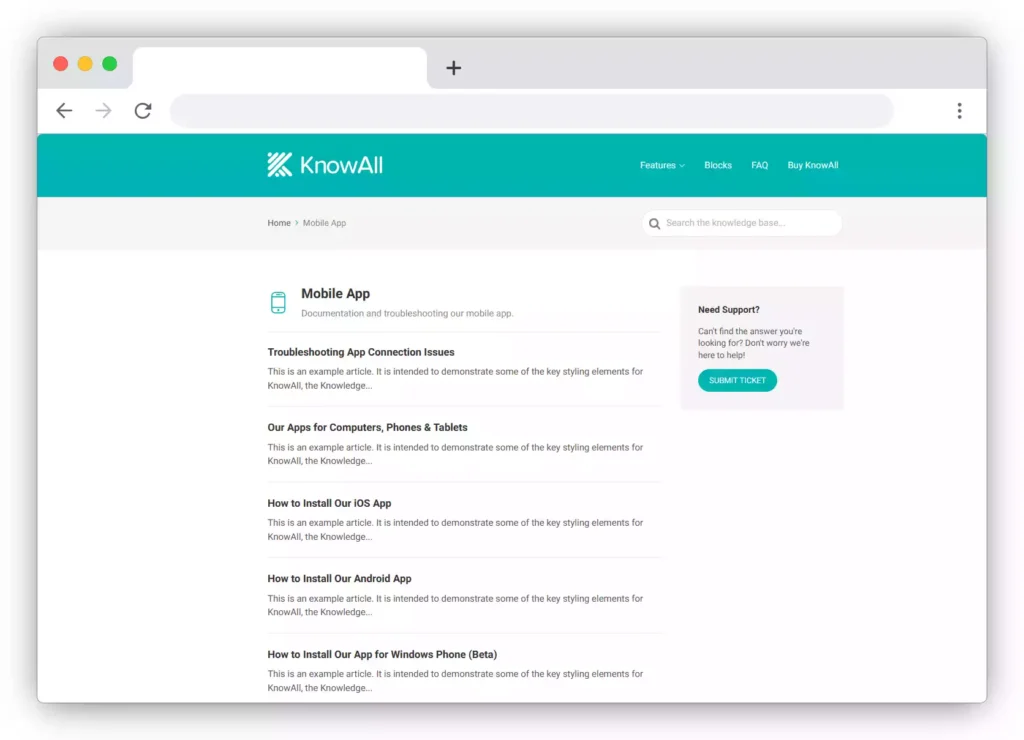 integration with Heroic KB
Looks great on any device
Ability to personalize KnowAll theme to match your brand
Well documented theme
Popular among corporate users
Custom blocks for content creat
Built in analytics dashboard
Live theme customization options
KnowAll is price bundled with Heroic KB starting at $149.50/ year
---
Lore is an elegant and feature-rich WordPress theme designed specifically for creating knowledge base websites. With its sleek and modern design, Lore offers a visually appealing interface that enhances the user experience.
The theme includes a comprehensive set of tools and features tailored for organizing and presenting information effectively. Lore allows you to create and categorize articles, FAQs, tutorials, and documentation in a user-friendly manner.
Some of the key features of Lore include: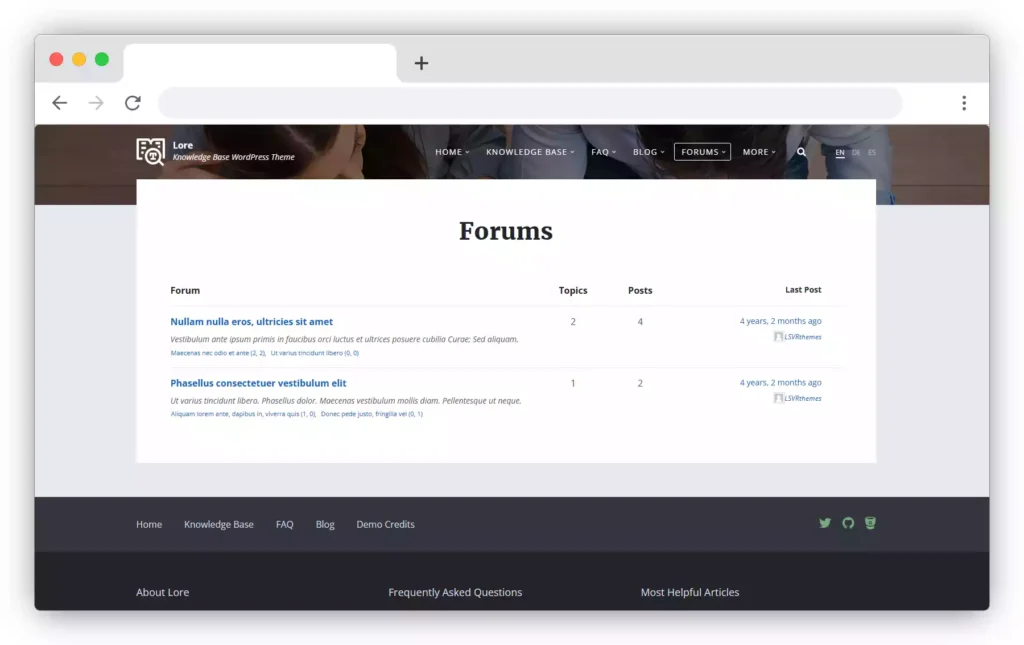 Mobile-friendly design
Gutenberg compatible
Forum capabilities with bbPress forum builder plugin
Custom color schemes
RTL support
Child theme included
Modular post types
Lore is priced at $59 for a single-site license.
---
Manual is a versatile WordPress theme designed specifically for documentation, knowledge bases, and educational websites. This theme provides a clean and modern design that emphasizes readability and ease of use.
With Manual knowledge base theme, you can create comprehensive documentation and organize it into categories or sections for easy navigation.
Some of the key features of Manual include:
Compatible With WooCommerce
RTL support & WPML compatible
Ability to create Documentation, Knowledgebase, FAQS, Portfolio, Shop, Education (LMS), Forums
One click DEMO import support
Advance Ajax Live Search
Fully customizable demos
Compatible with BBpress & Contact Form 7
Great for SEO
Child theme included
Manual is priced at $59 for a single site license.
---
Tips for Creating an Effective Knowledge Base Website
Organization: Organize your articles into categories and sub-categories to make it easy for users to navigate. Make sure to avoid redundant categories to eliminate confusion.
Navigation: Consider adding a mega menu or a sticky header to make navigation easy and convenient.
Searchability: Ensure that your website has an easy-to-use search feature to help users quickly find articles and answers.
Consistency: Maintain consistency in the look and feel of your website, as this fosters credibility and trust with your audience.
Updating Frequently: Update your website frequently with relevant and informative articles to cater to all user needs and queries.
A/B testing: Perform A/B testing to assess what works best for your users.
---
How to Create a Knowledge Base Website with WordPress?
Here's a step-by-step guide on how to create a knowledge base website with WordPress. For this example, we'll be using the Docy Documentation theme, a knowledge base WordPress theme:
Purchase & download the WordPress theme: Visit the Docy ThemeForest page, where the Docy Documentation theme is available for purchase. Once you've completed the purchase, download the theme files to your computer.
Log in to WordPress dashboard: Open your web browser & navigate to your WordPress website's admin panel. Typically, you can access it by adding "/wp-admin" to your domain name (e.g., "yourdomain.com/wp-admin"). Enter your username and password to log in.
Go to the "Themes" section: Once you're logged in, you'll be directed to the WordPress dashboard. On the left-hand side menu, locate and click on "Appearance," then select "Themes" from the sub-menu.
Add a new theme: On the Themes page, click the "Add New" button at the top of the screen. This will take you to the theme upload interface.
Upload the theme files: In the theme upload interface, click the "Upload Theme" button. Then, click the "Choose File" button and select the Docy Documentation theme file you downloaded in step 1. Once selected, click "Install Now."
Activate the theme: After the theme is uploaded and installed, you will be redirected to a confirmation page. From there, click the "Activate" button to make the Docy Documentation theme your active theme.
Install required plugins: Some WordPress themes, including Docy Documentation, may require specific plugins for full functionality. Upon activating the theme, you may be prompted to install and activate the necessary plugins. Follow the on-screen instructions to complete the installation process.
Import demo content (optional): To get started quickly, you can import the theme's demo content. Typically, the theme documentation or the theme options will provide instructions on how to import the demo content. Follow those instructions to import the demo content, if desired.
Customize your knowledge base: Now that you have installed the theme, you can start customizing it to fit your needs. Modify settings such as the logo, color scheme, fonts, and layout through the WordPress Customizer or the theme options, depending on the theme's capabilities.
Create and organize your documentation: With the theme installed, it's time to start creating your knowledge base content. Create new pages for your documentation and organize them into logical categories or sections to make it easier for your users to navigate.
Common Features of a Knowledge Base Website
The following are some widely available sets of features that almost all knowledge base websites have and new websites should come with.
Categories & subcategories: Categorize your articles by grouping them into main categories and subcategories.
Tags and labels: Add tags and labels to improve the searchability of your articles.
Search bar: Allow users to search for relevant articles and answers using a search bar.
Featured articles: Highlight popular or informative articles to attract user attention.
Article voting: This feature lets users up-vote relevant or helpful articles and down-vote irrelevant ones.
Social sharing: Allow visitors to share articles on social media.
Comments: Enable a comments section to foster communication and engagement.
Forums & Community Sections: Provide open and transparent forums of discussion.
Media Integration: The knowledge base should come with support for a wide range of supported media formats.
Footnotes: Footnote capability to provide resources and third-party information when available.
Accessibility Features: Accessibility features are a must-have nowadays for visitors with special needs.
Conclusion
Creating an effective knowledge base website is a crucial step for businesses to offer support to their customers in a cost-effective and user-friendly way.
By choosing one of the best WordPress themes for building a knowledge base, businesses can create a professional and informative website that provides helpful information and reduces customer support inquiries.
By following the tips outlined in this article, businesses can make their knowledge base website stand out and provide an exceptional user experience.
Frequently Asked Questions on WordPress Knowledge Base Themes
What is a WordPress knowledge base theme?
A WordPress knowledge base theme is a WordPress theme that is specifically designed for creating knowledge bases. These themes typically come with a variety of features that make it easy to create and manage a knowledge base, such as a search bar, categories, tags, and a comment system.
How do I choose the right WordPress knowledge base theme for my needs?
When choosing a WordPress knowledge base theme, there are a few things to keep in mind:
Your budget: WordPress knowledge base themes can range in price from free to hundreds of dollars. It is important to choose a theme that fits your budget.
Your needs: What features are important to you in a knowledge base theme? Do you need a theme with a search bar, categories, tags, or a comment system?
Your style: What style do you want your knowledge base to have? There are many different WordPress knowledge base themes available, so you can find one that matches your brand or style.
Once you have considered these factors, you can start looking for a WordPress knowledge base theme that is right for you. There are many great themes available, so you are sure to find one that meets your needs.
What are the benefits of using a WordPress theme for building a knowledge base website?
WordPress themes and plugins provide a lot of customization options and features to help businesses create an effective and comprehensive knowledge base website.
Why do I need a knowledge base website?
A knowledge base website is essential for businesses that want to provide their customers with easy access to answers and solutions to their questions and concerns.