In today's globalized world, having a multilingual knowledge base website is essential for businesses to cater to a diverse range of customers from around the globe.
By providing information in multiple languages, you can enhance user experience, increase accessibility, & expand your reach to international markets.
In this article, we will explore how to create a multilingual knowledge base website with WordPress & some popular translator plugins
Is it Worth Translating a Knowledge Base?
According to statistics from Statistica, Mandarin, Hindi, and Spanish are not far behind English in terms of the number of worldwide speakers. Companies that cater to these languages can significantly expand their customer base, although it requires considerable effort.
And it's not only about expanding to diverse markets, look at translating a knowledge base website as an accessibility upgrade. Making your website & its library of knowledge accessible to those not well-versed in English.
"A multilingual knowledge base website can help businesses to reach a wider audience, to improve customer service, and to build trust and credibility." – HubSpot.
Why Choose Docy for Your Multilingual Knowledge Base Website?
When it comes to creating a well-structured knowledge base platform, choosing the right WordPress knowledge base theme is crucial. You need a theme that can effectively showcase your business knowledge base structure with the right design elements and content organization.
There are several benefits to using a professionally crafted knowledge base theme like Docy:
Ease of Use: The Docy documentation theme offers 10+ preset demos specifically designed for creating documentation, knowledge base, wiki, and LMS websites. These pre-built templates make it easy to get started and simplify the setup process.
EazyDocs Integration: Docy is fully compatible with the EazyDocs documentation plugin, which streamlines the creation and management of your documentation. With EazyDocs' intuitive drag-and-drop interface, you can effortlessly create and organize your content.
Customization Options: With Docy, you have complete control over the appearance and layout of your knowledge base website. You can customize the theme, including colors, fonts, and other visual elements, to align with your brand identity and create a cohesive look and feel.
Seamless Collaboration: If you have a team working on your knowledge base, Docy makes collaboration a breeze. You can assign roles and permissions to team members, ensuring a smooth workflow and efficient content management. This feature enables multiple contributors to work together seamlessly.
Elementor Compatible: Since the theme is fully compatible with Elementor, users can take advantage of any number of Elementor widgets & design elements to improve their knowledge base platform.
And much more.
Now that we've explored the advantages of using Docy, let's delve into the step-by-step process of creating a multilingual knowledge base website.
Creating a Multilingual knowledge base with Docy
Let's go through the step-by-step process of creating multilingual knowledge website starting with installing our WordPress knowledge base Theme.
Step 1: Docy Knowledge Base Theme Installation
Start by purchasing the premium documentation theme from ThemeForest. And downloading the theme file.
Log in to your WordPress dashboard. (yourwebsite.come/wp-admin)
Go to Appearance > Themes.
Click the Add New button.
Click Upload Theme & select the downloaded Docy theme.zip file.
Now click the Install button.
Once the theme has been installed, click the Activate button to use it on your website.
Step 2: Using Docy Knowledge Base Demo for Content Structure
With most premium WordPress themes users can decide between creating a knowledge base page from scratch or using a preset demo included with the theme.
And Docy is no different, for seeking this quick tutorial, we'll be using the Docy knowledge base demo using the One Click Demo Import plugin.
To do so, simply navigate to WordPress Dashboard Appearance Import Demo Data .
And click on the Import Demo button on your preferred demo.
Here's a step-by-step video tutorial on how to work with Docy knowledge-base WordPress Theme:
If you run into any issues during the installation of the configuration process, you can always refer to WPML resources:
Translating Your Knowledge Base with WPML
WPML is a popular translation plugin for WordPress sites that offers a user-friendly experience and a range of useful features. It seamlessly integrates with the Docy Knowledge Base, making it easy to create and manage a multilingual knowledge base. 
Here's how you can install & start translating your content with WPML:
Translating Your Knowledge Base with WPML
WPML is a popular translation plugin for WordPress sites that offers a user-friendly experience and a range of useful features.
It seamlessly integrates with Docy Knowledge Base, making it easy to create and manage a multilingual knowledge base.
Here's how you can install & start translating your content with WPML:
Step 1: Acquiring the OTGS Installer
To kickstart your WPML journey, visit the WPML Downloads page and secure the WPML OTGS Installer plugin. This powerful tool automates the installation process, ensuring your website has all the necessary components to become fully multilingual.
Step 2: Upload & Install the WPML WordPress Plugin
Once you've downloaded your WPML OTGS Installer file, simply upload it to your WordPress website.
Log into your WordPress website.
Navigate to

Plugins

Add New
Click on Upload & select your file & click on Install Now.
Wait for the plugin installation to complete and click Activate.
Now go through with the WPML setup wizard.
Step 3: WPML Configuration Wizard
Upon successfully uploading the OTGS Installer or the WPML core plugin, a user-friendly wizard will guide you through the setup process. Let's dive into the details.
Defining your site's languages from the first panel. English will be by default your primary language (which can be changed).
Now from the Translation Languages option define additional languages that you want to support on your website.
For this example, we've selected the French & Spanish languages.
Step 4: Optimal URL Structure
WPML you can choose from three distinct language URL formats. Take into account factors such as cost, target audience (language or region), and international SEO strategy to make an informed decision.
Remember, advanced settings and URL format modifications can be accessed in the WPML → Languages section post-configuration changes.
Step 5: Registering WPML
Verify your registration with WPML with your Site Key.
Step 6: Choose WPML Translation Mode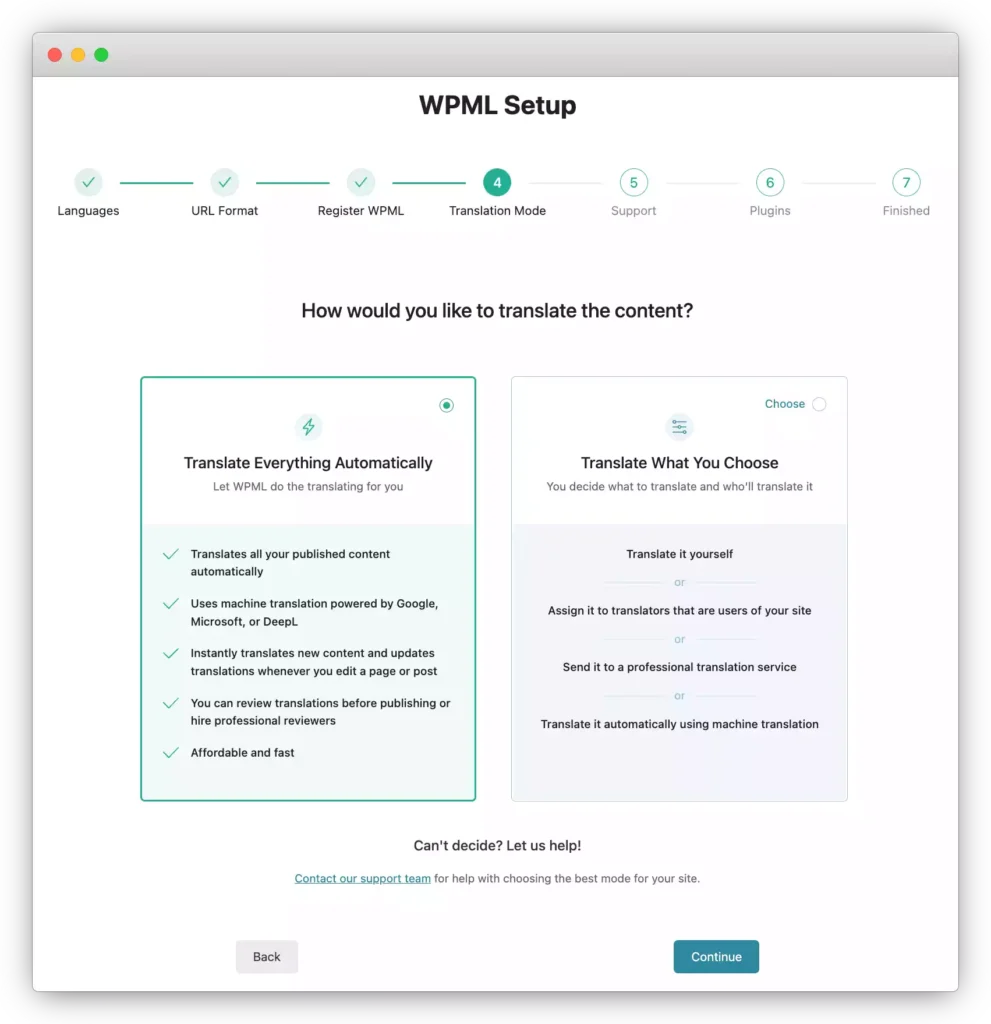 WPML offers two translation modes to suit your preferences:
Automatic Translation: Utilize machine translation (DeepL, Google Translate, or Microsoft Azure) to automatically translate your published content. Note that this option requires automatic translation credits.
Selective Translation: Exercise control over the translation process by choosing specific content to translate. Decide whether to handle translations internally, collaborate with translators, or hire a professional translation service. Grant the Translation Manager role to a user for translator selection.
Step 7: Activating Additional WPML Components
In the final step, WPML provides recommendations on add-ons to install based on the plugins present on your site. Remember to prioritize essential components such as String Translation.
If you have third-party plugins that require WPML extensions to achieve multilingual functionality, this step ensures smooth integration.
For instance, if you employ the WooCommerce plugin for E-commerce shop functionality, WPML's WooCommerce extension will be suggested.
If you run into any issues during the installation of the configuration process, you can always refer to WPML resources:
Conclusion
Setting up a multilingual knowledge base is not difficult, and you're not limited to only the WPML translator plugin. There are more options in the market.
The choice of solution depends on factors such as your timeline, budget, and level of perfectionism.
For the best translation quality, manual translation is always the recommended option.
I hope this article has provided valuable insights into setting up additional languages in your knowledge base. If you're looking for inspiration to build a multilingual knowledge base, check out our article on "How to Create Professional Documentation".
Remember, providing multilingual support can greatly enhance your user experience and help you cater to a broader audience.
Happy translating!
Frequently Asked Questions on Multilingual Knowledge Base Websites
Can I add additional languages to my knowledge base later?
Yes, You can add additional languages to your knowledge base at any time using a powerful translator plugin such as WPML.
Is it possible to customize the appearance of the language switcher?
Absolutely! Docy offers customization options for the language switcher. You can modify its appearance, position, and behavior to align with your website design.
Can I use automated translation services for translating my content?
Yes, you can use automated translation services like Google Translate to speed up the translation process using WPML's automated translator function. However, it's important to review and edit the automatically translated content for accuracy and clarity.
Can I collaborate with my team members while working on the knowledge base?
Definitely! Both the Docy theme & WPML translator plugin offers collaboration features that allow team members to work together on the knowledge base. You can assign roles, set permissions, and track changes to ensure smooth collaboration.
Is Docy suitable for large-scale knowledge base websites?
Yes, Docy is designed to handle knowledge base websites of all sizes. Whether you have a small business or a large enterprise, Docy's scalability and performance will meet your requirements.