When it comes to creating an engaging online community website for networking with WordPress, having a suitable theme is crucial. And it can be a daunting task to pick the best bbPress community WordPress theme for your website.
But don't worry, in this article, we will explore the best bbPress community WordPress themes to help you create a robust and engaging platform for your online community.
And Underline some key factors to consider while choosing the best bbPress theme for your website.
Whether you're starting a forum, a social network, or a membership site, these themes offer the perfect combination of features, functionality, and design to meet your needs.
Factors to Consider While Picking the Best Community WordPress Theme
When selecting the best bbPress community theme for your networking website, there are several essential factors to consider.
Each theme offers unique features and functionalities that can significantly impact the user experience and the success of your online community.
To help you make an informed decision, here are the key factors you should consider:
Design & User Interface: The theme's design & user interface should be visually appealing, modern, and intuitive.
Responsiveness: With the increasing use of mobile devices, it is crucial for your theme to have a responsive design.
Reviews & Ratings: Read reviews and ratings from other users who have used the theme.
Support and Documentation: Check the availability of theme documentation, tutorials, and support channels.
SEO Friendliness: A theme that is optimized for search engines can help improve your website's visibility and organic traffic.
Scalability: Consider the scalability of the theme. If you anticipate your community growing in the future, ensure that the theme can handle a large number of users, discussions, and content without compromising performance.
Community Features: Assess the features provided by the theme to enhance community engagement.
Integration with bbPress: Ensure that the theme is fully compatible with bbPress, as this is the key plugin you'll be using to create your community forums and discussions.
Customization Options: Consider the level of customization options available with the theme. Look for themes that provide flexibility in terms of colors, fonts, layouts, and other design elements.
Plugin Compatibility: Consider the compatibility of the theme with other essential WordPress plugins.
By considering these factors and aligning them with your specific requirements, you can confidently choose the best bbPress community theme that will empower you to create a powerful and engaging networking website.
Best bbPress Community WordPress Themes
AMA – bbPress Forum WordPress Theme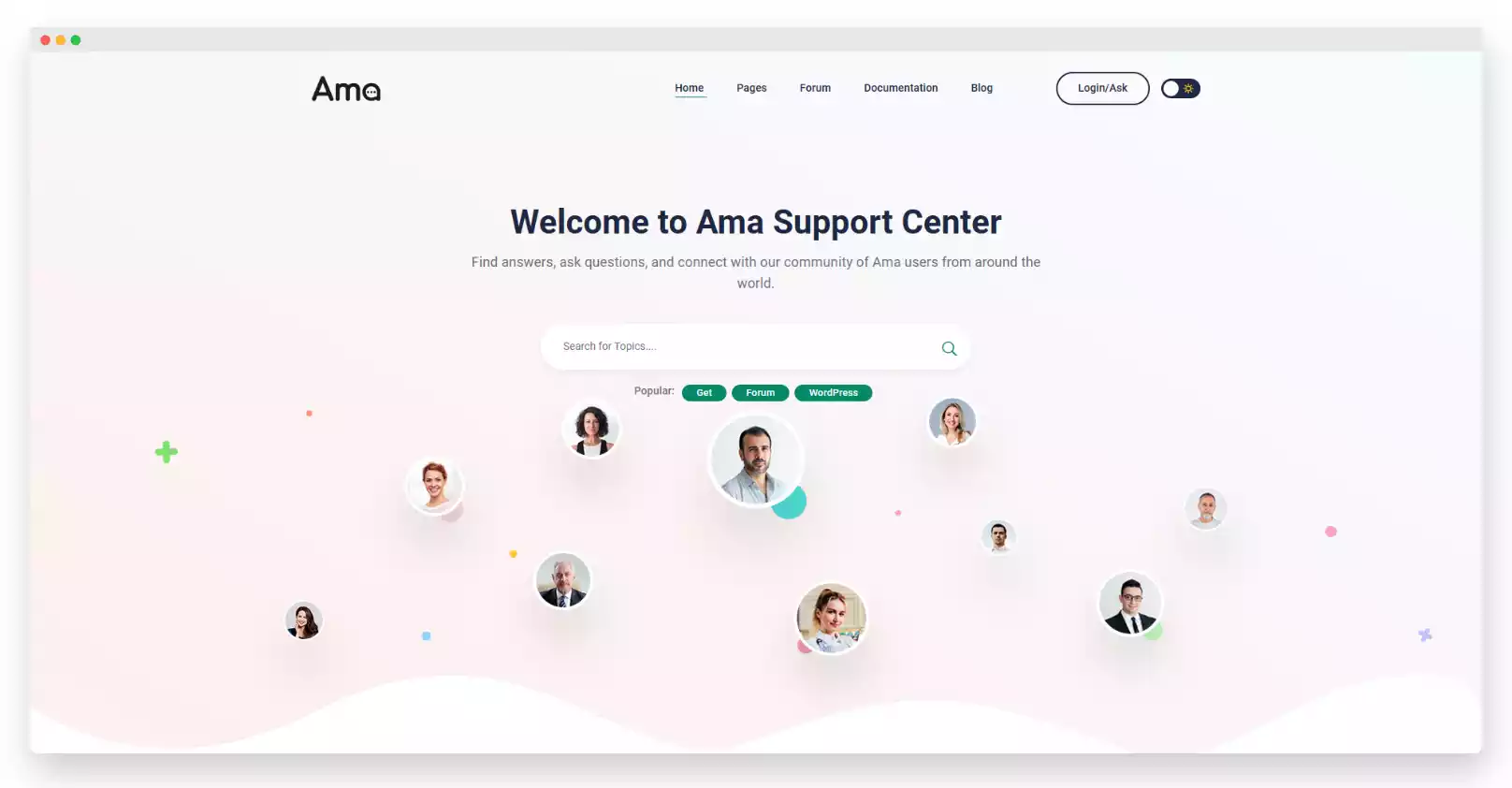 AMA – bbPress forum WordPress theme, is one of the solutions for creating engaging & interactive forum websites. That can incorporate additional community engagement features such as Q&A sections, thread filter, Ajax search function, top tread pin, and more.
This premium WordPress forum theme combines sleek design with powerful features to enhance user engagement & facilitate seamless discussions.
AMA features the BBP Core plugin specifically designed to integrate seamlessly with bbPress. BBP Core plugin will expand upon the base bbPress plugin features with solved topics, private replies, forum statistics, etc.
With its intuitive interface and robust functionality, AMA empowers you to build a vibrant community where users can ask questions, provide answers, and participate in meaningful discussions.
AMA Forum WordPress Theme Key Features:
Modern & Responsive Design: AMA boasts a clean and modern design that adapts beautifully to any screen size or device.
bbPress Integration: With built-in compatibility for bbPress, AMA ensures smooth integration & seamless operation.
Preset Forum Demos: AMA included 6+ preset demo content for communty websites.
Gamification & User Reputation: Encourage participation & reward valuable contributions with responsive voting system & answer ranking.
Social Media Integration: Foster social sharing & expand the reach of your forum with built-in social media integration.
Robust Moderation Tools: Maintain a high-quality & spam-free environment with powerful moderation tools. Administrators & moderators can flag, edit, or delete posts, manage user accounts, & control content visibility to ensure a safe and valuable user experience.
SEO Optimized: Design to be light & easy to optimize for search engines.
Community Helpdesk: Easy to configure community helpdesk with built in support for EazyDocs helpdesk builder plugin.
Private Forum: Ability to create private forum threads.
Live Search: Built-in Ajax live search function for easy topic research.
Advanced Q&A System: Engage your community with a comprehensive question-and-answer system. Users can post questions, provide answers, upvote or downvote responses.
Custom Widgets
Whether you're building a niche-specific forum, a support community, or a knowledge-sharing platform. AMA – bbPress Forum WordPress Theme provides all the essential tools to create an engaging and dynamic forum experience.
Olympus – Social Networking WordPress Theme
Olympus – the ultimate Social Networking WordPress Theme. This feature-packed theme, available on Themeforest, empowers you to build a vibrant and engaging social network website.
With its modern design and powerful features, Olympus takes your online community to the next level. Discover the possibilities with Olympus today!
Olympus Key Features:
Community Functionality: Create a thriving social network with user profiles, activity feeds, private messaging, groups, & more.
Responsive & Modern Design: Olympus is designed to look stunning on all devices.
Customization Options: Customize your social network with ease using Olympus' flexible theme options.
Events Management: Organize and manage events within your social network using the built-in event management system.
Media Management: Allow users to share and showcase their photos and videos seamlessly.
Page Builder Support: The premium theme comes with support for both Elementor & WPBakery Page Builder.
SquadForce – eSports Gaming WordPress Theme
SquadForce – the ultimate eSports Gaming WordPress Theme. This dynamic theme, available on Themeforest, is designed to cater specifically to the needs of eSports and gaming websites.
Although it is not explicitly designed & developed for forum functionality it features some excellent community-building & interactive features such as eSport event coverage, team listings, news blocks, & so much more.
With its immersive design and powerful features, SquadForce takes your gaming community to the next level. The popular gaming theme can also double down as an excellent theme as a gaming news portal & blog space.
SquadForce Key Features:
eSports-Ready Design: SquadForce boasts a design that captures the essence of the gaming world.
Forum Page: The gaming theme can feature platform based forum threads.
Gaming Tournament Integration: Organize & showcase gaming tournaments seamlessly with the built-in tournament management system.
Team & Player Profiles: Highlight your gaming teams and players with dedicated profiles. Showcase their achievements, statistics, & social media links.
Live Streaming Integration: SquadForce seamlessly integrates with popular live streaming platforms, allowing you to embed live streams directly on your website.
Gaming News & Blogging: Keep your community up to date with the latest gaming news and trends. SquadForce offers dedicated layouts and features for blogging, ensuring you can deliver valuable content to your audience.
ForumPress – WordPress bbPress Forum Theme
If you want to create a super simplistic forum website without any unnecessary bells & whistles, then ForumPress can be an excellent choice. The premium forum theme just focuses on the core features of a community forum website and that's about it.
Without ForumPress users won't be getting that weights a website down out of the box. Instead, it features a simple forum function with responsive layouts.
ForumPress Key Features:
Simple forum layout.
Topic based forum threads.
Responsive ready layout.
SEO-friendly.
Translator ready.
KLEO – Pro Community Focused, BuddyPress Theme
KLEO – Pro Community WordPress Theme offers seamless support for both popular WordPress community-building plugins – bbPress & BuddyPress. This opens new possibilities for developers allowing them to pick the best option for their task.
KLEO theme is great for creating any social networking website and it offers demos for all sorts of community types.
KLEO Key Features:
Support for both bbPress & BuddyPress forum builder plugins.
Easy theme customization.
30+ Preset forum website demos.
Powerful live theme customizer.
Easy to use drag & drop inlcuded Backend Editor & Frontend Editor.
Total Theme (bbPress Site Demo)
The Total theme is a versatile solution for creating bbPress-powered websites. Seamlessly integrate bbPress forums and effortlessly build engaging online communities.
With its intuitive drag-and-drop page builder support using WPBakery, theme customization options, and compatibility with major plugins, Total empowers you to design and manage your bbPress website with ease.
Total Theme Key Features:
WPBakery supported drag and drop builder.
Flexible theme customization options.
Perfect for support forums, community event boards, and more.
100+ Page Builder Blocks
Topic/forum post search box.
Classic forum layout.
Bonus Tip – Create bbPress Websites Easily ( with Widgets instead of Templates)
Element Pack addon for Elementor lets you create and customize your own bbpress websites in WordPress.
Instead of templates, the plugin offers customizable widgets and there are a lot of them for this task.
Just for bbPress, Element Pack offers 8 forum widgets that you can use to design the forum page or archive.
What's more, is that you can add many page builder features like grids, carousels, lists, etc. while designing your forums.
As Element Pack provides a better integration with bbPress, it opens more windows for creativity.
Check out Element Pack's bbPress widget.
Final Words on the Best Community WordPress Themes
In conclusion, choosing the right bbPress community WordPress theme is crucial for creating an engaging online networking website. Today, we explored the best bbPress community WordPress themes that offer a perfect combination of features, functionality, and design to meet your community's needs.
That meets all of our above-mentioned selection criteria while picking your forum builder theme.
By carefully considering these factors and aligning them with your requirements, you can confidently select the best bbPress community WordPress theme that will empower you to build a powerful and engaging networking website.
Remember, your community's success starts with the right theme choice!