In today's digital age, having a professional & functional website is crucial for businesses, including financial banking institutions. Having a robust banking website can drastically improve your financial institution's customer service & satisfaction capability.
Imagine having a website that can serve as an information dashboard for financial services. It can act as a knowledge base, a client data utility, and even a built-in automated financial calculation tool. Additionally, you can have application forms readily available, all conveniently accessible from a single website.
Doesn't that sound fantastic to have for your business? If so, you have stumbled upon the right tutorial. Today we'll be taking a look at how we can ''Create a Financial Banking Website with WordPress''
Why Choose WordPress?
Why WordPress you may ask? We've selected WordPress for its versatility and its scalability, both of which are must-haves for any growing business. Especially when we're talking about an important service sector like financial & banking institutions.
Another important point of our selection was the availability of WordPress themes & plugins. We wanted to select a theme that is purpose designed & built to accommodate a scalable business with all the necessary pages, design elements, & features to accommodate our banking website.
For this reason, we've picked: Banca WordPress Banking Theme.
Why Choose Banca Banking Theme?
Banca WordPress Banking Theme is a modern and user-friendly theme for financial institutions. It offers unique features like a built-in loan calculator, payment processing, custom landing pages, and demos for various financial services.
It supports multilingual add-ons, comes with the full support of the EazyDocs knowledge base plugin, and provides an easy loan application form.
Other features include compatibility with Elementor, responsive design, documentation, and SEO optimization. It's the perfect choice for creating a professional financial website with career pages. Easily one of the best banking themes out right now.
How to Create a Financial Banking Website with WordPress
Follow these simple steps to create your own financial website with WordPress.
Step 1: Get a Domain Name & Web Hosting Provider
When you're creating your first service website like a banking or a financial platform, be conscious about choosing your domain & hosting service provider.
We recommend going the safe route and choosing one of the top service providers like Bluehost, HostGator, Hostinger, GoDaddy, etc.
These hosting service providers are top of their fields and have gained notoriety for their excellent customer service.
While on the subject, we also recommend a service that also provides domain name registration services.
This reduces the hassle of dealing with multiple service providers.
For the sake of this tutorial, we'll be opting for the Bluehost domain hosting service.
Choose Your Bluehost Subscription Plan
Start by heading over to Bluehost and click ''Get Started''.
Now choose the best subscription plan for your website.
Pick Your Domain Name
Now you'll be redirected to the Bluehost domain registration page, enter your domain name to check its availability.
Note: Bluehost provides free 1-year domain registration with a first-time subscription. The free domain registration is only valid for .com, .net, .org, and .biz domain extensions.
Choose your domain & head over to the checkout to complete your transaction.
And you're done, you've successfully subscribed to a hosting plan & registered a domain name for your business.
Alternative Choice:
In case you already possess a registered domain with a third-party domain registrar, you have the option to continue utilizing it rather than creating a new one.
Choose the "Use a domain you already own" option and click Next. Subsequently, follow the instructions provided to transfer your domain from its current location to Bluehost.
Step 2: Setup WordPress on Bluehost
Upon successfully registering with Bluehost, you will receive a confirmation email containing your login credentials. Utilize this information to access your Bluehost account. Once logged in, the hosting service will provide step-by-step instructions for installing WordPress.
Alternatively, you can navigate to your Bluehost dashboard to initiate the WordPress installation process. Simply click on "My Sites," followed by "Create Site." The installation process will commence immediately.
You have the option to manage themes & plugins from the Bluehost dashboard or you can use the WordPress dashboard itself.
Step 3: Get Banca WordPress Loan Theme
Now for the exciting part, head over to ThemeForest and search for Banca the banking WordPress Theme.
Give the store page a read, preview the demos if you want to, and processed to the checkout.
Once you've finished your transaction, download the Banca theme file on your desktop.

Step 4 Install & Activate the WordPress Banking Theme
Now head over to your Bluehost dashboard & access your WordPress website by entering your login details.
Now navigate to WordPress Dashboard Appearance Themes and click Upload Theme .
Choose your downloaded theme file and click the Install Now button.
Please wait for the installation process to finish, and click Activate theme.
And you're done.
Step 5: Import Banca Demo
Now that you've successfully installed the Banca finance theme, head over to WordPress Dashboard appearance Import Demo Data
From this page, you can select any of Banca's preset demo pages and import them directly to your WordPress website.
Along with all the required & recommended WordPress plugins, custom widgets, design elements, and any additional demo data.
To install any demo, hover over the demo you like and click Import Demo and wait for the installation process to end.
Once done, you can visit your website to see the imported demo data.
Step 6: Customize Your Banking Website
One of the reasons why we choose Banca to be our financial website theme is because it comes with a flexible theme settings panel that lets you customize every aspect of the website. Which makes it easy to rebrand and customize.
Starting with,
Adding a Logo to WordPress Website
Navigate to WordPress Dashboard Theme Settings Header under the header option click on Logo. From here you can change your WordPress logo & logotypes.
Adjust both logo dimensions & padding as well.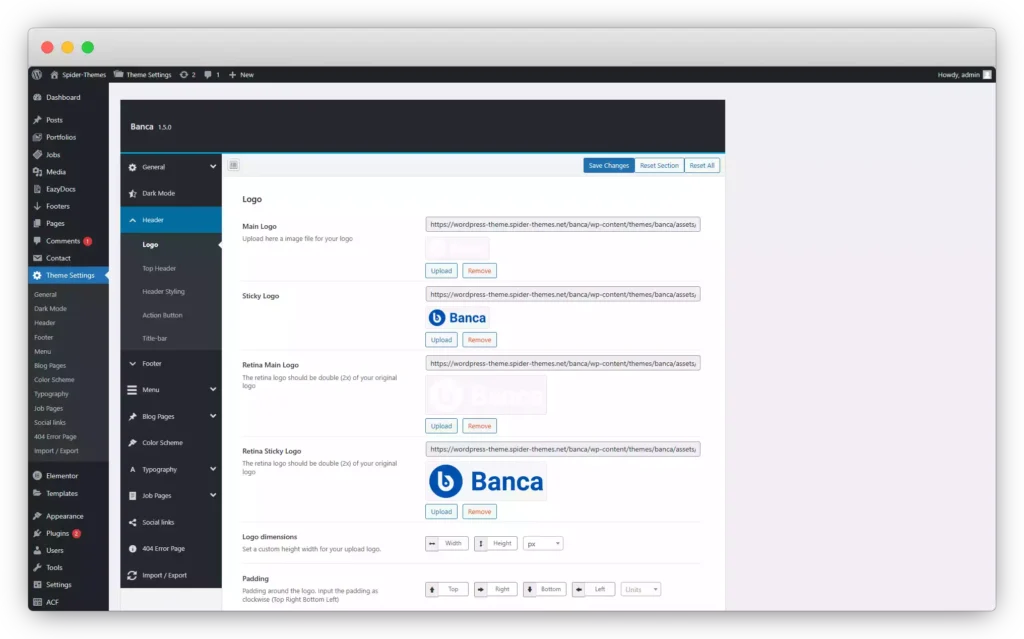 When you're done click on Save Changes.
Adding Top Header Content to the Website
It is a common practice for financial service websites to have top header content that features the time of opening, weekdays, & contact information.
With the Banca investment theme, you can do just that with ease. Click on the Top Header option from the Theme Settings, and toggle ''Show'' to reveal header content on your website.
When you're done click on Save Changes.
Footer Section Customization
To customize your footer section, head over to your Dashboard Footers . You can create a new one or edit an existing footer.
This Footer customization screen is based on the default editor screen which makes it easy to customize and adjust items. When you're done customizing your footer section, make sure to save changes by clicking Publish/Update.
Adding Loan Calculator to WordPress Website
A must-have feature for financial websites is a loan calculator. With Banca's custom Elementor loan calculator widget, adding a calculator to your WordPress website is made easy.
To add your loan calculator create a new page or click Edit with Elementor on any existing page. Search for the Banca Loan Calculator widget from the Elementor editor screen search box. Drag & drop the widget to your page.
Select one of two preset calculator layout styles.
Now adjust the parameters of your calculator, typography, and button style. When you're done make sure to hit Publish/Update to make it live.
Adding a Knowledge Base to WordPress Website
Having a well-structured knowledge base for your financial website is a must-have for both employees and clients alike. For this important feature, the premium banking theme comes packed with the EazyDocs knowledge base plugin.
It's an advanced documentation & knowledge base builder plugin that will help you streamline your knowledge base creation process.
Simply follow this step-by-step video tutorial to create yours:
Step 7: Pre-launch Checklist & Test Before Going live
Now that you're done creating and customizing your investment financial WordPress website, we recommend against going live straight away. We strongly endorse going through an industry-standard pre-launch checklist before making your website live.
We've added the following items some standard pre-launch checklists for your convenience.
404s: Create a custom 404 page and set up email alerts to track errors.
Check URLs: Ensure all live site URLs are correct.
Clear calls-to-action: Have clearly defined calls-to-action on your site.
Install SEO plugin: Use Yoast SEO, Rankmath, All-in-one, or another SEO plugin for content optimization.
Configure permalinks: Set up descriptive and SEO-friendly permalinks.
Check sitemaps: Verify XML sitemaps are working and include all content.
Review robots.txt: Optimize your robots.txt file for efficient crawling.
Test AMP compatibility: Ensure AMP pages work properly on mobile devices.
Test social media integration: Check that social icons and sharing features function correctly.
Check site accessibility: Make your site accessible to all users.
Set up a backup solution: Install a reliable backup system to protect your data.
Secure your website: Implement security measures to safeguard against attacks.
Confirm SSL: Ensure your website has an SSL certificate for secure connections.
Prevent spam: Use anti-spam solutions to manage comments effectively.
Update timezone: Set the correct timezone for accurate scheduling.
Address legal requirements: Obtain licenses, include terms of service, privacy policy, and comply with relevant regulations.
Delete unwanted plugins: Remove unnecessary plugins for better performance.
Correct contact information: Double check contact information.
Test run: Test every page before going live.
In Conclusion
Having a professional and functional website is essential for businesses, including financial banking institutions, in today's digital age. A robust banking website can greatly enhance customer service and satisfaction by serving as an information dashboard, knowledge base, client data utility, and automated financial calculation tool.
Creating a financial banking website with WordPress is a practical choice due to its versatility and scalability, particularly for the financial and banking sector. The Banca WordPress Banking Theme is a modern and user-friendly theme specifically designed for financial institutions, offering features such as a built-in loan calculator, payment processing, custom landing pages, and demos for various financial services.
By following simple steps, such as getting a domain name and web hosting provider like Bluehost, setting up WordPress, installing and activating the Banca WordPress Banking Theme, importing demos, and customizing the website, you can create a professional and personalized banking website to enhance your business's online presence and functionality.
Frequently Asked Questions (FAQs)
Can I use the Banca theme for a non-banking website?
Yes, the Banca theme is designed primarily for banking websites but can be customized to fit various industries. Its flexibility and customization options make it suitable for other businesses as well.
Is Banca compatible with popular WordPress plugins?
Banca is built to integrate seamlessly with popular WordPress plugins, allowing you to extend the functionality of your website. However, it's essential to check compatibility before installing any third-party plugins.
Does Banca support multi-language websites?
Yes, Banca is translation-ready and supports the creation of multilingual websites. You can use plugins like WPML or Polylang to add multiple languages to your financial banking website.
Can I customize the layout and design of my website with Banca?
Absolutely! Banca offers a wide range of customization options, allowing you to modify layouts, colors, fonts, and other design elements. You can create a unique and personalized website that reflects your financial institution's brand.
Is Banca optimized for mobile devices?
Yes, Banca is fully responsive and optimized for mobile devices. It ensures that your financial banking website looks and functions seamlessly on smartphones and tablets.