In this article, we will explore the best banking WordPress themes for 2023 and beyond. These themes are ideal for financial and investment sites, providing a combination of functionality, aesthetics, and security.
Let's dive into the top criteria for selecting the best theme for your financial website.
Criteria for Selecting the Best Banking WordPress Themes for Your Financial Website:
Financial websites are a different genre of websites than most websites on the internet and thus have a different set of requirements and selection criteria. For your convenience, we've listed down some of the most widely considered items for selecting the best-performing WordPress financial theme.
Responsive Design: Choose a WordPress financial & investment theme that is fully responsive, ensuring a seamless user experience on different devices & screen sizes.
Security Features: Prioritize themes with strong security measures, SSL compatibility, best coding practices, regular updates, use of nonces, etc.
Customization Options: Look for themes that offer extensive customization options to reflect your brand identity and create a visually appealing website.
Integration with Financial Plugins: Opt for themes that seamlessly integrate with popular financial plugins, enhancing your website's functionality.
Custom Financial Web Components & Widgets: Choose a banking theme that offers custom widgets & web components like loan calculator, financial charts & graphs, roadmaps, project data, etc.
Performance & Optimization: Select themes optimized for fast loading times, efficient coding, and support for caching and content delivery networks.
Documentation & Client Support: Consider themes with comprehensive documentation and reliable support from the developers.
By following this list we hope you'll be able to make a strong judgment while choosing your next theme for you're WordPress investment Sites. But you should never blindly follow this list, you should also take into consideration you're business requirements and the design vision for your website as well. See if the theme you have chosen meets all your requirements.
Banca – Banking, Finance & Business Loan WordPress Theme
Banca WordPress Banking Theme is a modern, responsive, and easy-to-use theme that is perfect for financial institutions, banks, loan companies, and other businesses that offer financial services.
What sets Banca apart from the rest is the fact that Banca offers additional financial website features such as the ability to create a built-in dynamic loan calculator, a payment processing feature for WordPress, custom landing pages, functional demo pages for all major types of financial services including a financial app landing page.
Banca is also fully capable of hosting a multilingual WordPress Website that can cater to financial clients around the globe. Users are also able to create a comprehensive knowledge base with the EazyDocs knowledge base plugin.
Banca Key Features:
Built-in: Dynamic Loan Calculator.
Elementor Compatibility: Banca Banking WordPress theme is fully compatible with Elementor, Elementor Pro, & PRO Elements.
RTL Support: Banca supports RTL languages, making it a great choice for businesses that serve Arabic or Hebrew-speaking customers.
Loan Application Feature: Banca offers the ability to create multi steps form for easy loan application right from the webpage.
Banca Financial Demos: Banca Business Loan WordPress Theme offers a suite of demo pages that can help create a wide range of financial websites including financial app landing pages.
Translation Ready: Banca is translation ready, so you can easily translate the theme into any language with WPML or any popular translator plugin.
Responsive Design: Banca is responsive, so it looks great on all devices, including desktops, laptops, tablets, and smartphones.
Documentation & Support: The popular banking theme is well documentmented and offers round the clock customer support.
SEO Optimized: For optimal search engine performance.
Career Page: Users can easily create & host career & job recruitment pages with detailed job listing & application form.
Payday Loans – Banking & Finance WordPress Theme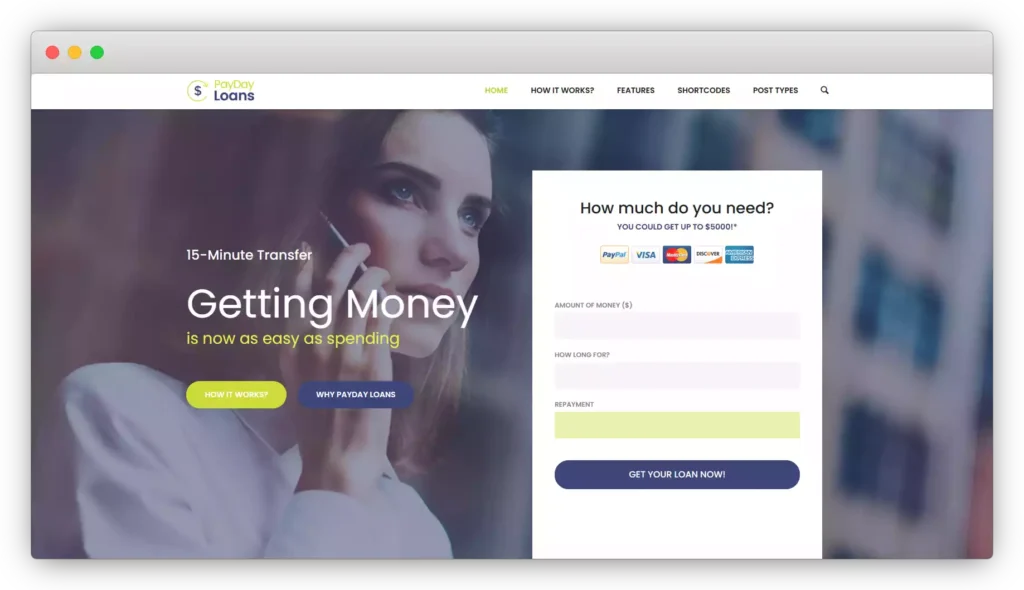 The Payday Loans – Banking, Loan Business, and Finance WordPress Theme is a powerful and versatile theme that is perfect for businesses in the financial sector. The theme features a clean and modern design, as well as a wide range of features that are specifically designed for financial websites.
Payday Loans offers all the necessary page designs required to create and host a financial website.
The theme even includes an engaging form layout configurator for your loan application services & shortcode support for quick customization.
Responsive layout that looks great on all devices, from desktop computers to mobile phones and tablets.
Custom Admin panel for flexible customization options.
Built-in loan calculator that allows visitors to calculate their monthly loan payments.
The theme includes a large collection of custom widgets.
99+ Custom shortcodes for ease of customization.
For ease of content showcase the theme offers layer & revolution slider.
Well documentmented & great client support.
Borrow – Loan Company WordPress Theme
The Borrow – Loan Company Responsive WordPress Theme is a powerful and versatile theme that is perfect for businesses in the financial sector. The theme features a clean and modern design, as well as a wide range of features that are specifically designed for financial websites.
8 Professionally crafted financial demo designs.
WPBakery Page Builder compatible with with 29+ custom web element.
Powerfull theme settings panel with Reduxframework.
Loan, mortgage amortization calculator with plugin support.
EMI Calculator
Highly responsive page designs,
Translator ready.
Finance Consultant – Consulting WordPress Theme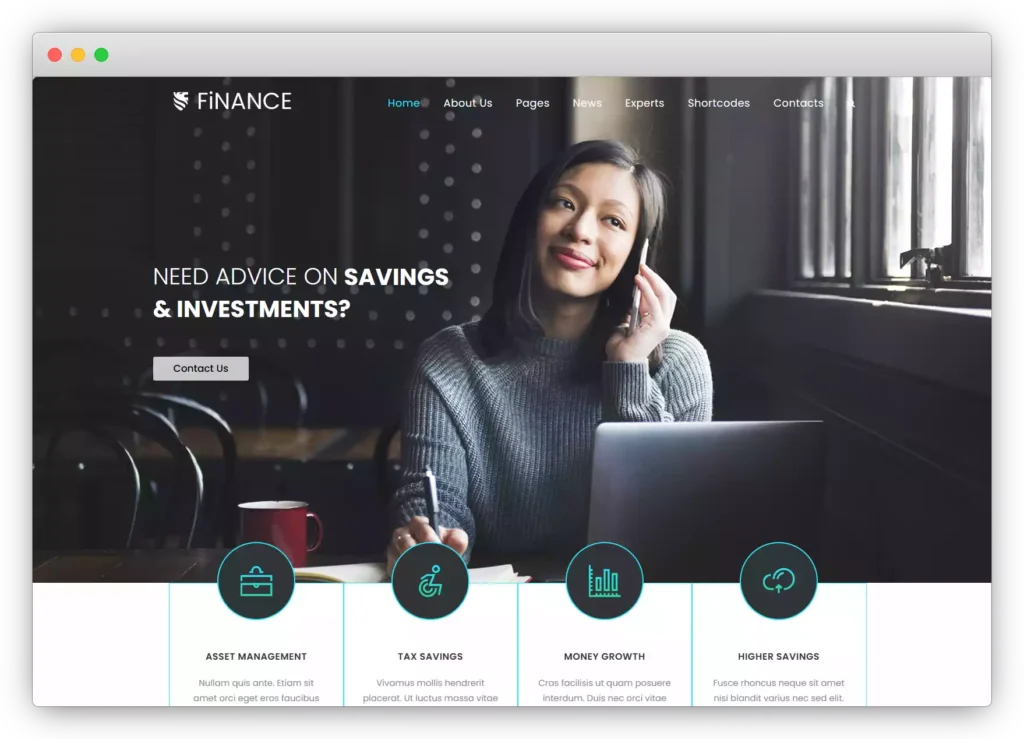 Finance – Tax Consultant – Finance Business Theme is a professional and responsive WordPress theme that is perfect for financial businesses of all sizes. The theme features a clean and modern design, as well as a wide range of features that make it easy to create a website that will impress your clients and visitors. T
Professional & informative website layouts for your financial business.
Multiple preset header & module variations.
Highly responsive design, that looks great on any device & screensize.
Easy to customize theme settings panel.
100+ Shortcodes for easy banking theme customization
Included premium themes.
Quick Cash | Loan Company & Finance Advisor WordPress Theme
Quick Cash – Loan Company & Finance Advisor WordPress Theme is a modern and responsive WordPress theme that is perfect for loan companies, financial advisors, and other businesses in the financial sector. The theme has been designed to present and promote financial institutes in a stunning web presentation.
This best WordPress loan theme offers plenty of awesome features such as shortcodes for features such as loan calculator, funding/payment review forms, & payment info forms and so much more.
Quick Cash offers two professionally crafted landing pages.
Fully compatibility with WPBakery drag & drop page builder.
Responsive designs with different swipe effects.
SEO optimized.
GDPR framework WP plugin included.
Interactive Ajax search
In conclusion,
When selecting a banking WordPress theme for your financial website in 2023, it is essential to consider several key criteria. These criteria include responsive design to ensure a seamless user experience across different devices, security features to safeguard sensitive financial data, customization options for reflecting your brand identity, integration with financial plugins to enhance functionality, and the availability of custom financial web components and widgets.
Furthermore, performance and optimization are crucial factors to consider, as they contribute to fast loading times and efficient coding. Comprehensive documentation and reliable client support are also important considerations for a smooth website-building process.
While this list serves as a guide, it's essential to consider your business requirements and design vision for your website. By carefully assessing whether a theme aligns with your specific needs, you can make an informed decision and choose the best banking WordPress theme for your financial website in 2023 and beyond.