To create an online booking system for cleaning services, one needs to consider a few factors including multiple components such as user registration, service selection, scheduling, and payment processing. Here's a proper guideline for how you can build an online booking system for cleaning services.
The process of scheduling appointments and managing calendars is difficult and time-consuming, despite how simple it, is to develop a website for a cleaning company. You can utilize a variety of cleaning service booking WordPress plugins to solve this problem.
What function does the cleaning services plugin provide?
The WordPress cleaning service plugin allows customers to schedule appointments online, which lessens their daily workload. The effectiveness of your house cleaning business will increase.
With the help of this cleaning service provider plugin, you can successfully offer cleaning services as a business owner. It will allow for stress-free corporate growth.
This awesome WordPress plugin will benefit you in several ways:
Saving time by being able to rapidly schedule and reserve appointments without communicating with you or your employee directly saves time;
Choose the service category, an employee doing the service, and the service;
Use a responsive booking form to make a reservation from any device,
Specify the days and times that suit them, and the booking system will only present time windows that are open;
Specify the required contact information;
Receive a confirmation SMS and email for their online reservations;
To remind you of an appointment, text yourself.
You don't need to know any programming languages or code to use these plugins.
You will have a great deal of time saved.
Because you give your consumers a simple way to make reservations, your business will become well-known.
Introducing a highly recommended cleaning service booking plugin, Cleanly.
The best WordPress plugin for automating and customizing online reservations is Cleanly. With its extensive booking forms and convenient payment options, the WordPress appointment scheduling plugin boosts client satisfaction and increases occupancy.
Features:
You can insert a single form anywhere on your website, and the plugin backend lets you edit the individual fields.
You can add a multistep form anywhere on your website, and you can alter each step individually using the plugin's backend.
Based on the data from your reservation, you can check your booking preview, total cost, sub-total, and total discount. Booking Summary can be enabled or disabled.
The data your client entered on the reservation form is modifiable. Your form can be customized for your services. The ability to design fully customizable forms is the most crucial feature.
It is possible to enable and disable both single-form sections and multistep-form tabs.
You are able to get a real-time calculation based on the specifics of your reservation.
Filter, search, and sort the booking list;
Notify clients and a service provider by SMS and email when an appointment is approved, pending, or canceled;
You can quickly and easily manage your online customer list and appointment scheduling using the admin panel.
Let's walk you through how to add "Cleanly" to WordPress Website
To use the cleaning service booking on your website, you need to install and activate the plugin from your WordPress Dashboard. Once you've done that, you'll see a tab for Cleanly in your dashboard. Just click on it to get all the features.
You can place a single form on your website and customize the fields in the plugin settings. It's super easy to use – you can use WordPress shortcodes, Elementor Widgets, and Gutenberg Blocks to create pages.
Set up a single form, from the backend:
A single form in the frontend:
You can put a multi-step form anywhere you want on your website. The plugin's backend lets you customize individual settings. It comes with WordPress shortcodes, Elementor Widgets, and Gutenberg Blocks for page building. Now it's got new design and layout options for multi-step forms.
You need to make sure you enter all the necessary info and data into your backend so that you can give your customers the ideal single and multi-step forms, along with a booking summary.
Check out your booking overview, the total cost, subtotal, and the total discount based on your reservation details. You can move the Booking Summary box wherever you want and turn it on and off.
Let's see the multistep form and booking summary in the front portion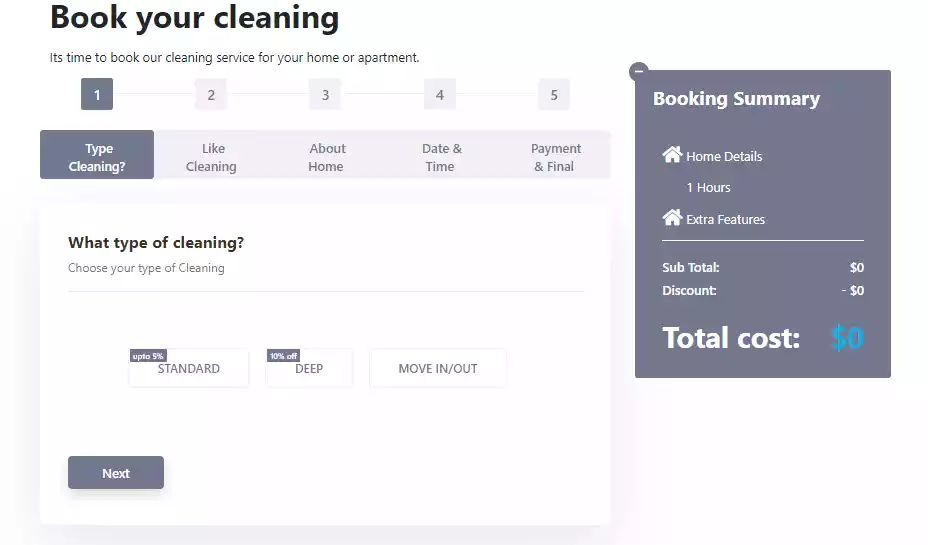 Arrange the settings according to your needs – like the form title, subtitle, booking type, etc. – and you can set up your single and multi-step forms however you'd like.
Fill in your details and decide if you want to enable payment or not. If you do, make sure to fill out all the necessary fields.
Using Cleanly is really super easy. You don't have to worry about dealing with any complicated stuff.
Final Thought
Getting a plugin like Cleanly can help your business be more flexible when it comes to cleaning. You can use WordPress to make a website for your business to get in touch with potential clients and build your online presence.
Getting a plugin like Cleanly might make your company's cleaning procedures more adaptable. To connect with potential customers and establish your online presence, you can create a website for your company using WordPress.
On the other hand, a system for scheduling cleaning services based on appointments allows clients to use your company's services more quickly and saves them time. Finding the best plugin for your website may be challenging given the wide range of options. Consider your options carefully and select the best WordPress plugin to meet all of your needs.